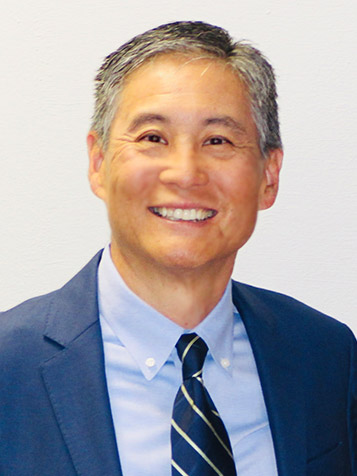 Dr. Mark Y. Iritani is an orthodontist in Greenwood Village who specializes in treating children, teens, and adults by utilizing the latest technological advances in orthodontics and customizing care to your individual needs.
Born in Durango, Dr. Iritani is a third-generation Coloradoan. In seventh grade, Dr. Iritani decided he wanted to be an orthodontist, and after more than 25 years in practice, he still experiences the same enthusiasm for the profession. As a past president of the Colorado Orthodontic Association, Dr. Iritani stays at the forefront of orthodontics by attending numerous conferences and seminars and is active in local study clubs. He is also a committed member of many dental associations.
In 2015, Dr. Iritani was asked to come back to the University of Colorado to teach in the orthodontic residency graduate program after having taught at the school in the early 1990s. In addition to sharing his love of family, sports, and the mountains with the residents, Dr. Iritani enjoys having the opportunity to pass on his knowledge of orthodontics to a future generation.
Dr. Iritani attended the University of Colorado in Boulder before graduating from the University of Colorado School of Dental Medicine. He received a certificate from the University of Nebraska Medical Center for completion of its general practice residency program. After Dr. Iritani completed his orthodontic residency at Eastman Dental Center in Rochester, New York, he returned home to Colorado.
Credentials
University of Colorado School of Dentistry
University of Nebraska Medical Center
Eastman Dental Center
Memberships
American Association of Orthodontists
Rocky Mountain Society of Orthodontists
Colorado Orthodontic Association (president 2004, board member 1998-2005)
University of Colorado School of Dentistry Alumni Association (board of trustees 1995-1998)
Dr. Iritani met his wife, Dr. Patra Watana, a specialist in pediatric dentistry, at Eastman Dental Center. Together they have two children, Matthew and Megan. Matthew joined his parents in practice after completing his orthodontic residency at the University of Colorado School of Dental Medicine. Megan pursued pediatric dentistry like her mom and has joined the office as well.
When he's not in the office, Dr. Iritani can be found spending time with his family or recreating in his many hobbies, including, skiing, biking, swimming, and scuba diving.